As well as always using the best quality fittings, we only use the
most experienced installers in the industry. Pete and Steve have over 30
years experience in the industry. As well as having excellent skills and knowledge, in particular they are lovely and courteous people in your home. You can read many of our reviews through Google and Checkatrade.
We are always at the end of the phone or email if you have any questions. Even if you would like to purchase a water softener on a DIY basis, you can still have a no obligation survey and guidance on your water softener installation.
The best way of getting more information regarding your Installation is through a no obligation survey, but are always at the end of the phone or email if you have any questions at all.
Just call 01276 27924 \ 07899 895152 or email support@uk-water-softeners.co.uk
Our Installations
Friendly and polite service
The most experienced Installers
Provide a quick turn around from initial enquiry to installation if required
The best quality fittings
WRAS Approved Products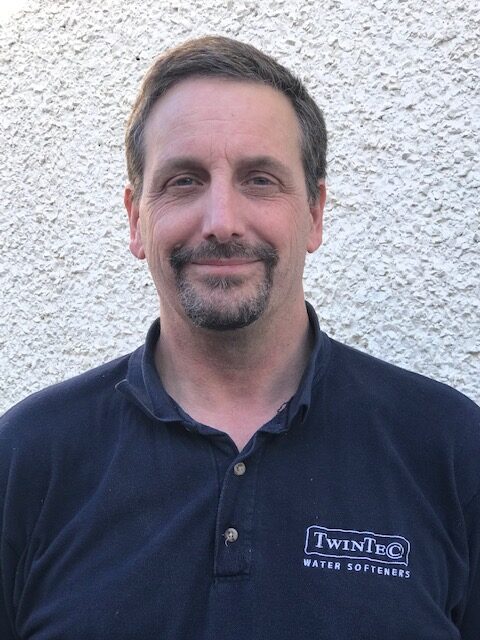 Steve Harvey (Above)
He is one of the most experienced installers in the industry. Steve used to be the Installations Manager for a leading water softener manufacturer in the UK. With 40 years experience in the industry, he has solved some very challenging installations where our customers have been told they can not have a water softener fitted in their properties. We feel very privileged to have him in our team. We have many wonderful reviews from our customers complimenting his work.
"I cannot recommend UK Water Softeners highly enough. They were able to find a solution for what turned out to be a technically challenging installation and provided a friendly and professional service throughout the process. The installation itself was clean and neat and we have been enjoying our soft water ever since."
Pete McGuiness (Left)
Working along side our Father since he founded the business in 1995. Pete has over 30 years experience with installing water softeners. He approaches every installation with great skill and care. As well as being a very experienced engineer, in addition he is a pleasure to work with. You can read many references to Petes work in our customer reviews.
"Absolutely fantastic service. 5star installation. Nothing a problem. Great quality. No hesitation in recommending this company. Great product. Delighted with everything . Installation and customer follow up. Delightful staff "
Examples of other Installation possibilities
Under the sink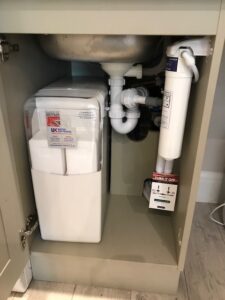 A very popular place for our water softeners to be installed. In this image you can also see our standard drinking filter.
Outdoor Box
Great quality outdoor boxes fully insulated. Wood and metal designs available
Corner Cupboard
Utilising those awkward corner cupboards is a great space for a water softener
Loft Installations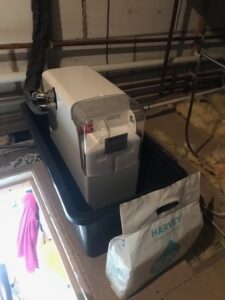 Loft installation come with a loft tank
Small cupboards
Our units fit neatly in these small cupboards
Cut shelf
In double cupboards or under the sink where a shelf is involved we can cut the shelf so you can still utilise the space
Sounds good, what happens next?
Book a Free Home Visit
Submit your request and we'll be in touch to arrange a visit