Kitchen Taps
We do a wide range of taps, including small faucet taps, 3 way taps and boiling taps.
Triflow Taps
A really popular choice is to fit a Triflow Tap with your water softener, this allows you to have hot and cold softened water and a hard water supply all in one, (subject to survey).
Many modern and classic designs and finishes to choose from
3 Lever and 2 lever Triflow taps available
All are compatible with our annual filters
Best Seller – Stratus Chrome
5 year parts warranty (T&Cs apply)
Suitable for all UK types of plumbing
Stunning Design
Available in brushed nickel finish
5* quality with long term reliability
Small faucet taps
If a 3 Way Tap is not for you another very popular option is to get a small tap fitted by the sink. This can also have a filter connected to it for fresh tasting drinking water. These taps come in a satin and chrome finish. We do a selection of quarter turn drinking water faucets with ceramic disc valves, for easier operation and greater reliability. 
Some of the other Taps supplied by UK Water Softeners
Cirrus 3 Way Tap Brushed Finish
Contemporary high quality styling and high flow capability. This 3 Way Tap is perfect for traditional or modern styled kitchens. Also available in a shiny Chrome finish
4 Way Virka Tap
Top of the range, the Virka in shiny chrome, exudes quality. This 4 way tap can provide hot, cold, filtered and softened water, all from the same spout.
Ares 3 Way Tap Brushed
Bold, clean lines and a robust stem, makes the Carina the perfect tap for the modern home. With an elegant Brushed finish , this tap will look right at home in your kitchen.
Gemini 3 Way Tap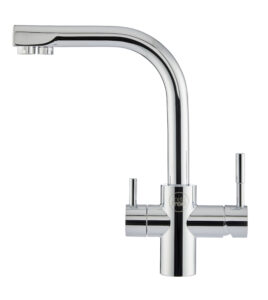 One of our most versatile taps, the Gemini will suit both traditional and contemporary kitchens. With a turn of the handle enjoy hot, cold or filtered water on tap.
Reach 3 Way Spray Tap
Give your kitchen the wow factor! Sleek, contemporary lines and a flexible pull out hose for extra reach in the sink. This Tap is available in polished chrome or a brushed satin finish.
Boiling Taps - Quooker Range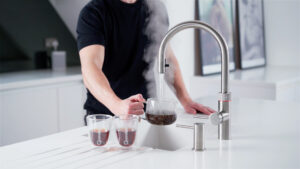 We have access to a full range of Quooker Taps. They range from a single boiling tap, 3-in-1, or add chilled or sparking water with the addition of the Quooker CUBE. With many sleek designs and finishes a Quooker Tap makes a beautiful centrepiece to any kitchen. It is a very practical product for a busy home
We have based this page on our most popular taps, but there is a wider range available. We are also very happy for our customers to supply their own tap.
Sounds good, what happens next?
Book a Free Home Visit
Submit your request and we'll be in touch to arrange a visit