Fed up with limescale in your home?
The perfect solution is to install a water Softener
Fed up with limescale in your home?
The perfect solution is to install a water Softener
Fed up with limescale in your home?
The perfect solution is to install a water Softener

Our Services
The outstanding benefits of having soft water in your home are well documented. The only question is, how can I get a water softener installed and which one is right for my household? There are many types of water softeners in the market place. However we provide twin cylinder, non electric water softeners due to economically being the most efficient and reliable water softeners in the market place.
With over 30 years of experience in the Industry, we have developed a great team to give you the right advise with the best installations and aftercare service.
Please contact us for a no obligation survey and do not hesitate to call if you have any questions. If you would like to carry out the installation yourself we still offer a free survey if required.
Call us on 01276 27924 or 07899 895152
Our Water Softeners
All of our water softeners are TwinTank, non-electric and come with a 10 year parts and 2 years labour warranty. They all have the highest performance record compared to other water softeners, as well as being economical. With block or mini curved salt providing a smooth process for salt top ups the customer has been in mind through the design and engineering. With manufacturing experience spanning over 50 years, our water softeners have proven history of reliability and longevity.
TwinTec S4 Water Softener
The Fourth Generation TwinTec S4, has the latest technology by Harvey Softeners, and manufactured in the UK. This product takes Block Salt and has a completely transparent lid with an engineered red line indicator for salt top ups.
NEW Harvey TwinTec Cobalt Water Softener
A revolutionary echo friendly design equipped with a smart lid to alert when you need to top up your salt. New mini curved Salt Blocks allow you to top up twice as regularly and are really easy to handle. This is officially the slimmest non electric water softener!
Infinity T4 Water Softener
A premium water softener with outstanding performance and efficiency. Kinetico have nearly 50 years' manufacturing experience. The stylish cabinet of the Infinity T4 gives an edge over other products. It has a sturdy magnetic and transparent lid which makes salt viewing a breeze.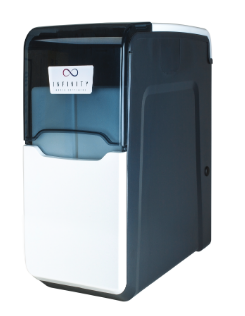 About
We are a family run business which was established by our Father in 1995 and are now one of the leading suppliers of water softeners in the UK.
Priding ourselves on our unrivalled customer care, is shown through our many customer testimonials and reviews. Our very experienced Installers are an asset to the business with a minimum of 30 years experience. Many of the water softeners we originally installed 15-25 years ago are still working well. This is down to the quality and reliability of the products that we supply as well as our workmanship.
We also supply drinking water systems, washing powder and Salt Supplies. Block and Mini Curved Salt supplies are provided at very competitive prices and with free delivery to your door.